Win a Costa Dorada Discovery with Jet2holidays
Discover Costa Dorada and win with Jet2holidays
It's only February – and those lighter nights still seem a long way away. But it's time to think beyond the frost and the drizzle. Maybe the thought of 4 nights in Costa Dorada can brighten your day.
Together with Jet2holidays, that's exactly what we're offering you, staying at the 4-star Hotel Caribe in Costa Dorada, which is on site at Spain's biggest theme park, PortAventura World.
See below for more details on Jet2holidays and to get a taste for the area with our guide to Costa Dorada. Then enter the competition to win your dream holiday!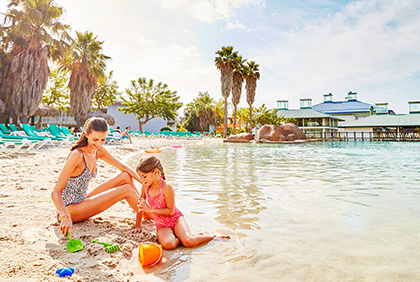 Hotel Caribe, PortAventura World
PortAventura Hotel Caribe captures the vibrant spirit of the Caribbean where bold bright colours and wooden beach houses will give you a taste of the exotic.
Laze under a thatched parasol on the man-made sandy beach and try tropical dishes at the Salsa Café.
Each of the hotel's 15 buildings is inspired by a different Caribbean island, lined by a glistening turquoise lagoon. If that looks enticing, the three outdoor swimming pools are perfect for cooling off in the sun.
Hop on the shuttle for unlimited entrance to the PortAventura theme park which now welcomes Ferrari Land, a theme park unique in Europe! Increase your adrenaline rush and experience the thrills this exciting park has to offer.


We've taken you on a journey of discovery together with Jet2holidays.
With Toby Anstis, we've explored a different location each time, revealing the great beaches, the best places to eat and the most fun things you can experience.
Next up it's Costa Dorada!
There are 50 miles of golden beaches on this stretch of Spanish coast.
Lively Salou is the most popular place to hang your hat. Make the promenade your favourite place for balmy evenings pottering about.
Classic Cambrils is easy on the eye and its sandy shores are ideal for beachfront lounging but there's loads of traditional heritage to discover in town. Gastronomic masterpieces are dished up all over, while theme parks and Roman ruins dazzle.
The sleepy resort of La Pineda has one of the longest golden beaches on this stretch of coast and is primed for seaside snoozing and theme park exploring nearby.

Don't miss
SIGHTS & ACTIVITIES
PortAventura World - This epic attraction combines a thrilling theme park, a Caribbean-style waterpark and Europe's only Ferrari Land. Look forward to white-knuckle rides, freefall slides and a non-stop programme of spectacular shows.
Don't miss
SIGHTS & ACTIVITIES
Bonmont Terres Noves - Enjoy a round at this 18-hole golf course with fabulous sea and mountain views, considered to be one of the best in Spain. The plush Bonmont complex also has apartments, a restaurant, outdoor pool, tennis courts and horse-riding facilities.
Don't miss
SIGHTS & ACTIVITIES
Aquopolis Water Park - From the adrenaline-fuelled Hurricane and Boomerang slides to the relaxing chill-out zone, Aquopolis has something for all the family to enjoy. There's also a Dolphinarium, where you can watch a dolphin and sea lion show and even swim with them.
Don't miss
SIGHTS & ACTIVITIES
Botanical Gardens of Salou - Enjoy a fabulous contemporary space with over 400 species of beautiful local plants, flowers and succulents as well as birds, butterflies and other native creatures. The perfect place for an afternoon stroll in the Mediterranean sunshine.
Don't miss
SIGHTS & ACTIVITIES
Day trip to Tarragona - Visit the city which used to be the capital of Roman Spain. Don't miss the seafront amphitheatre where gladiators once engaged in battle. Other places to see include the Roman forum, impressive cathedral and Devil's Bridge aqueduct.
Don't miss
SIGHTS & ACTIVITIES
Cycling in Costa Dorada - The 'Golden Coast' offers a cycling experience like no other. The further inland you get, this seafront gem unravels into a network of terrain up majestic mountains and forested hillsides. Come and check out this renowned riding region.
Don't miss
SIGHTS & ACTIVITIES
Bonavista Market - The largest market in Costa Dorada, and a great place to bag a bargain. Held every Sunday morning, the market's brightly coloured stalls are packed with ornaments, trinkets, handbags, tablecloths, clothing, music and toys.
Don't miss
BEACHES
Cala Crancs - The easternmost beach in Salou, situated in a cove surrounded by rugged cliffs and palm trees. Beach bar and sunbed rental available. The calm waters are great for young children who want to paddle and there's a nearby playground.
Don't miss
BEACHES
Cala Penya Tallada - The unspoilt beauty of this small cove surrounded by pine trees and indigenous plants will take your breath away. It's a hidden jewel next to the Punta Roja and only accessible on foot. Enjoy golden sands and a calm swimming area.
Don't miss
BEACHES
Llevante Beach - The longest stretch of beach in Salou with a lovely palm tree-lined promenade, soft golden sand and plenty of facilities, so ideal for families. Equipped with a gym, showers, toilets, volleyball courts, children's play areas, beach bars and cafes.
Don't miss
BEACHES
De Cap de Sant Pere Beach - Boasts seven kilometres of powdery, golden sands. With calm, shallow water and a lifeguard on duty, it's a safe choice for the family to enjoy. Its popularity is echoed in the throngs of sun-seekers that hit the shoreline.
Don't miss
FOOD, DRINK & ENTERTAINMENT
Cambrils Marina - Bag a table outside so you can watch the sea and boats bobbing up and down in the harbour. From the marina you can take part in water sports, such as fishing and jet-skiing. It's also where you'll find many of Cambrils' best shops.
Don't miss
FOOD, DRINK & ENTERTAINMENT
Illuminated Fountain - A must-see attraction which has been wowing the crowds in Salou since the 1970s. Watch in awe as the water from 100 jets spurts out at slow and fast speeds, dancing to different effects and colours, all synchronised to music.
Don't miss
FOOD, DRINK & ENTERTAINMENT
Decades Cabaret Show - Song, dance, comedy and a disco at the end of the night - this energetic theatre show has it all covered. You're greeted by the cast, and your very own waiter. The kids even have their own entertainment room, so you get free babysitters!
Don't miss
FOOD, DRINK & ENTERTAINMENT
House of Illusion - A team of professional magicians, illusionists, hypnotists and cabaret performers will leave you spellbound with their tricks, stunts and cunning sleight of hand. Drinks during the show are included in the price. A truly magical evening in every sense!
Don't miss
FOOD, DRINK & ENTERTAINMENT
La Vinoteca de Salou - If you're looking for a good bottle of local wine, the shop's owner really knows his stuff and will be more than happy to give you guidance and recommendations about what to choose.
Don't miss
FOOD, DRINK & ENTERTAINMENT
Foodie's delight - With over 200 restaurants to its name, Cambrils is a foodie's delight, offering a good mix of buzzing eateries, British pubs and laid-back bars. The marina is a great place to have a fish supper or scoop of ice cream.
Don't miss
FOOD, DRINK & ENTERTAINMENT
Dining by the beach - La Pineda has a good smattering of cafés and restaurants. Most are in the centre, but there are a cluster of eateries on the seafront. Think traditional restaurants specialising in paella and good spots for tapas and sangria with a sea view.
Book Your Dream Jet2holiday
Jet2holidays offers you the full package. Their outstanding customer service has led to them being winner of the Which? Travel Brand of the Year award, and all their holidays include your flights, hotels, transfers and In-Resort Customer Helper service. Not only that, but they're all ABTA and ATOL protected.
Jet2holidays is all about the extras that make your holiday experience great - low deposits of £60 per person, free child places, 22kg baggage allowance, friendly flight times and the revolutionary Free Resort Flight Check-In service.